So today I finally fixed this Panasonic DRA-01601A DVD recorder. The symptoms were the following: you plug in the DVD recorder. The device automatically powers on, the fan starts spinning, and nothing else happens. The front display stays completely black, nothing appears on the video screen.
If you actually plan on trying this, BEWARE. The power supply board can carry high voltages that are very dangerous. There's a reason these devices have a sticker telling you not to open it because there's an electric shock risk. The big black capacitor near where the AC power enters the board can hold high voltages and should be discharged before working on it. If you don't know what you're doing, get someone else who does know what they are doing to fix it for you. I left it unplugged for a day and it was discharged by then, but I still checked it with a multimeter to make sure it was safe to work on the board.
I opened it up and disconnected the ribbon cable going from the tan colored power supply board to the green DVD recorder board. I removed it on the power supply board side so I could measure the power supply outputs. Using a multimeter I checked each output. The 3.3V output was out of range, somewhere in the 2-ish volt range. The rest were fine. I figured this was the problem, since it's likely the DVD board needs the 3.3V output to run.
Looking at the board's capacitors, I noticed two of them were bulging at the top. I circled them in red in the picture below. It may be hard to see in the pic, but the tops of those two capacitors look quite a bit different from the tops of all the rest of them.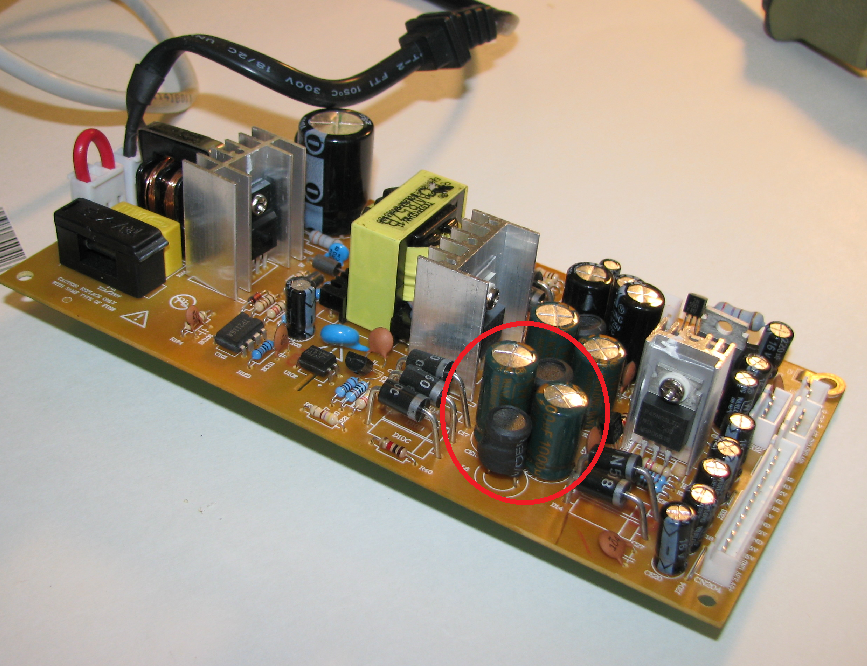 Both of those green capacitors were bulging. In fact, the shorter one on the right had actually let out some gunk underneath. I replaced them with caps with matching capacitance/voltage ratings. One was 2200uF 10V, and the other was 1000uF 16V. I powered it up again and checked the outputs. The 3.3V output was now correct! I plugged everything back in, fired up the DVD recorder, and everything worked fine again. Great success! Honestly I probably should have replaced all four of those green caps. They look pretty cheap, and I doubt the other two will last long either.
Sidenote: While I was testing the outputs the first time, I accidentally shorted the -12V output to a nearby pin. I should have been more careful, but I was not. Unfortunately this caused a spark, and the power supply turned off momentarily and came back up. After that, the -12V output was screwed up and measuring very low voltage. I checked out diode D11 on the board and I had blown it–it was appearing as a short in both directions, pulling the output down to ground. The marking on the diode was not very helpful–it said something like:
C12
ET
Not the greatest identification. I looked for "C12 diode" on Google and most of the matches were 12V Zener diodes, so I got a 12V, 1W Zener diode (BZX85C12) and it seemed to work OK, and the output was fine after that. It was a little thicker than the original so maybe the original wasn't 1W. Anyway, my guess is the diode was just for overvoltage protection, and it definitely did its job! (Or maybe it was being used as a cheapo voltage regulator?)