After recently installing Ubuntu 11.10 onto my Mac mini, I've been mildly annoyed when I connect to it through PuTTY from my Windows machine. It's working fine, except gcc displays a weird "â" character instead of quotes in its error messages. I figured it was some weird locale or terminal setting I hadn't configured properly in Ubuntu because I did a minimal install with only a few server packages, but I was dead wrong. I tried SSHing to a standard Ubuntu 11.10 install with a regular desktop environment and everything, and it still had the weird character in PuTTY!
It turns out that it's really simple — PuTTY defaults to an ISO-8859-1 character set and Ubuntu defaults to a UTF-8 character set. All I had to do was change my PuTTY settings to use UTF-8 instead: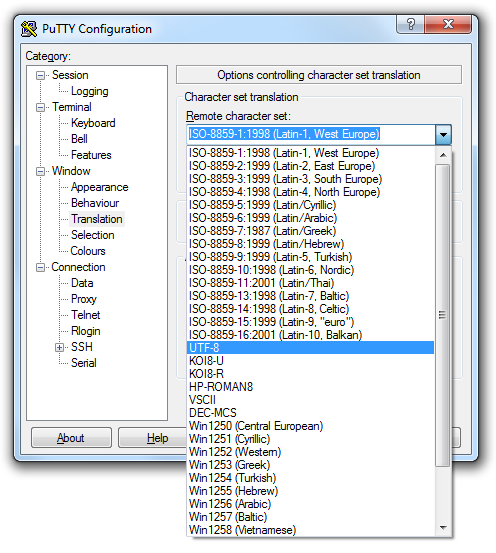 (The highlight is kind of hard to see, but I clicked "Translation" underneath the "Window" category on the left side to get to that screen.)
After making that change in PuTTY, it works perfectly. Passing the gcc output to hexdump -C shows that the quote characters are represented as:
0xE2 0x80 0x98
and
0xE2 0x80 0x99
(which are UTF-8 sequences for ' and ', respectively). Sure enough, 0xE2 in ISO-8859-1 is â, and 0x80, 0x98, and 0x99 are C1 control codes, which don't actually display a character. So that's the "why" behind this whole situation.
I know this probably seems like a simple thing to write a blog post about, but sometimes it's kind of freaky when you do a minimal install of a Linux distribution and little glitches like this pop up because you forgot to install or configure a standard package that everyone tends to use. Even though that wasn't the case here, I know others will run into the same problem and suspect the same thing I did originally, so I hope this helps someone else out (and maybe teaches a little bit of trivia in the process)!